What's Required
According to federal regulations each public agency must ensure that an assistive technology device and or an assistive technology service is made available to a student with a disability if such device or service is required as a part of the student's IEP. All ARD/IEP Committees are required by federal regulation CFR §300.324(a)(2)(v) to consider the student's need for assistive technology (AT) devices and services in the development of the IEP. This does not mean that the AT needs of a child with disability must be considered in every ARD/IEP Committee meeting, but it does means that the AT needs of a child with disability must be considered every time the IEP is being developed.
What We Do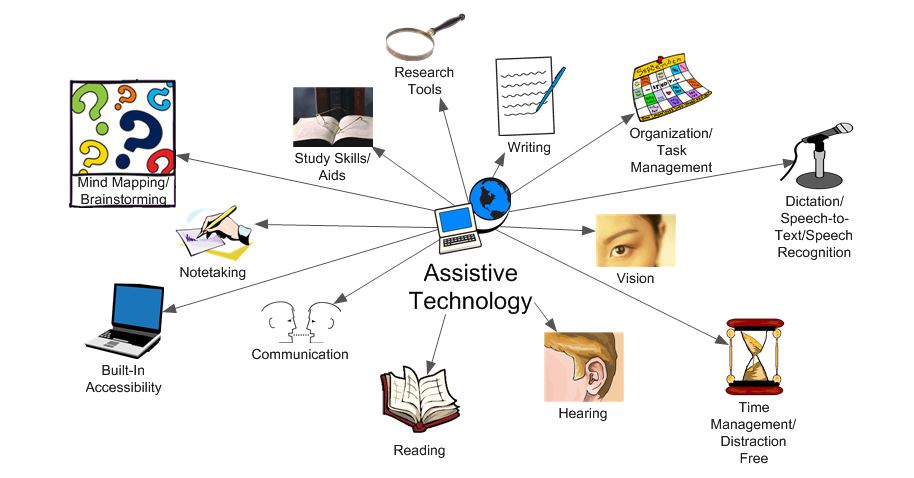 AT supports enable the student to access their education without disruption and levels the playing field in comparison to non-disabled peers. The Assistive Technology Team supports the student and campus through:
Individual AT Evaluations, AT consultations, and AT classroom evaluations
Teacher and Parent AT Training
AT Connection Meetings
AT Troubleshooting and Support 
IEP Committee and Staffing Support
Support in developing draft goal and objectives for students that may benefit from AT
Assistive Technology (AT) team is a multidisciplinary team often comprised of individuals with a varied backgrounds such as: 
Communication
Gross/Fine Motor Skills
Positioning
Special Education
Visual Impairments
Assessment
Behavior
Learning Disabilities
Spring ISD uses the SETT Framework (Zabala, 1995) when determining AT needs.  This framework includes four critical areas:
Student 

Environment

Tasks

Tools
Assistive Technology Consultation Procedures
Purpose of Assistive Technology Consultation - An assistive technology consultation is an informal dialogue among those educators working with a student,   and the assistive technology trainer(s). A consultation can happen anytime anywhere through any media. It can take place in a classroom, meeting room, or hallway. It can take place face to face, over the phone , conference call, video conferencing  or email. AT Consultations may eventually  lead to an  AT evaluation,a  classroom evaluation, or recommendations to trial certain tools or strategies. An assistive technology consultation may be requested by any staff member working with a student in need( teacher, Slp, OT, etc…). Outcome should result in strategies that assist the student in meeting their educational goal(s).
Assistive Technology Referral Procedures
Assistive Technology Referral Procedures



Detailed procedures regarding the process follow:

 

If referral for Assistive Technology is deemed warranted by by teacher, treating professional, campus staff member, parent or other member of the IEP Committee completes the AT Prereferral Questionnaire, scan the completed documents and send it via email to AssistiveTech@springisd.org.  
AT team will review the document and will contact you to schedule a staffing. 
AT Team has 15 school days (starting 1 school day following date of sent email containing completed AT Pre-Referral scanned document) to respond to campus's request for referral.
  

A staffing is scheduled by the campus Diagnostician, ARD Facilitator, or Speech-Language Pathologist (in case of speech only student) 

Participating members will be outlined by the AT Team (but generally include, as appropriate: Administrator, Teacher, Diagnostician, SLP, Related Services, LSSP, Behavior Specialist, Case manager and/or Department Chair or other pertinent staff members)
The SETT Form will be completed by the AT Team with input from the assembled team
Special Education Staffing/Conversation Notes

form must be completed and signatures obtained
Four Options can be determined by the AT Team:
1.       No Referral for Evaluation is Needed
 

AT Formal Response Letter

is sent via email to all Special Education Team members, along with; information 

outlining general strategies, recommendations, and tools 
2.      AT Need Identified but No Formal Evaluation Required 
Observation and trial period will be implemented with a data collection component from parents and teachers (2-4 weeks will be allotted for initial implementation)
AT Data Collection Sheet(s)

 will be given to the appropriate professionals to monitor and track 

A foll

ow up staffing with team members will be conducted by the AT Team on a predetermined date indicated in the AT Formal Response Letter

 

If at the time of follow up,  a formal evaluation is needed, the AT Team will initiate a full AT evaluation. (Please see "Referral for Evaluation is Needed" procedures, #3)
3.       Referral for Evaluation is Needed
AT Formal Response Letter

  is sent via email to all Special Education Team members to schedule a date/time for the formal evaluation as well as direction regarding obtaining Notice and Consent.

A Formal Evaluation Packet will also be sent to the campus special education team so they can begin collecting data and information. 
The AT Team will observe the student and environment as part of the formal evaluation.
The AT Team will work with the campus to schedule a Post-Evaluation staffing within 45 school days to review the report and recommendations.
The AT Facilitator will ensure that a copy of the AT Evaluation is uploaded into eSped within 2 school days of the staffing. 
After the stafffing the campus diagnostician, ARD Facilitator, or SLP will schedule a Revision ARD and send a copy of the AT Evaluation home to the parent to review
A Revision ARD will be scheduled by the campus Diagnostician, ARD Facilitator, or Speech-Language Pathologist
Note:  Evaluation timeline starts 1 school day following the date of the email that all scanned documents are sent to the AT Team after the revision ARD is held.
4.       AT Team Determines Additional Information is Required
AT Formal Response Letter

is sent via email to the campus Special Education Team along with a

n explanation of what additional information is needed for this student and the

 specified date information is required to be returned to the AT team 
If at any time a parent, teacher, staff member or treating professional has Assistive Technology concerns for a student, they are encouraged to contact the Assistive Technology Facilitator at: assistivetech@springisd.org or at 281-891-6349 with any questions. 
Assistive Technology Classroom Evaluation Procedures
Purpose of  Classroom Assistive Technology Evaluations  –  to conduct an evaluation in any educational environment provided that there are at least two students  receiving special education services presenting similar difficulties. When the students are included in the general education classroom, the AT trainer can conduct the evaluation in the general education setting. If the recommendation is made for an additional tool, when the tool is implemented in the classroom, it becomes available to any student in the environment to use. The assistive technology trainer is not making individualized recommendations for individual students, but rather, making global recommendations that can be used by the majority of the students in the environment.
Classroom AT  Evaluation Process
Step1: Educator notices multiple((2 or more) special education students are having similar difficulties and  may benefit from  assistive technology; complete the  Classroom AT  Evaluation form  and send it to the following email:Assistivetech@springisd.org

Step 2: AT Trainer  will   contact the educator to conduct an informal meeting with educator  to note challenging issues and strategies tried

Step 3: AT trainer visits  the classroom or other environment  during a time when the students are working on an area where the challenges are being exhibited.

Step 4: AT trainer observes classroom supports and strategies in use, generates/demonstrates ideas and recommendations,possibly interacts with the class to gather information without singling out students

Step 5: Once the observation is complete, the AT trainer generates an assistive technology classroom evaluation report via email and sends it to the educator.

Step 6: AT device(s) / equipment(s) will be delivered to the classroom and support and/ or training will be provided  as needed. Where equipment or device may benefit a group of students, teacher completes  and returns  the AT Loan Contract Form

Step 7:Educator will  return the AT device(s)  no later than the last day of school that school year.
Forms